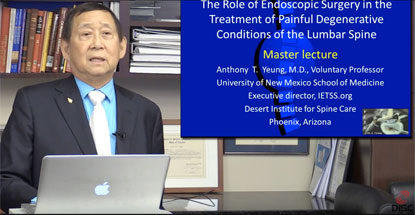 Although there are various methods to treat back pain, endoscopic spine surgery is the least invasive procedure to treat the patho-anatomy of low back pain and sciatica and is supported by the findings that low back pain most often occurs due to discogenic pain.
Endoscopic spine surgery is the most efficient and cost effective solution by practicing what is known as Evidence-based Medicine (EBM) which integrates clinical expertise, patients' needs and values, and the best research evidence.
Dr. Anthony Yeung has given this Master Talk at multiple International Spine Meetings throughout 2017 in order to educate and advocate about the advantages of minimally invasive endoscopic spine surgery.