2015 ACMIIST/IITTSS Conference Huge Success!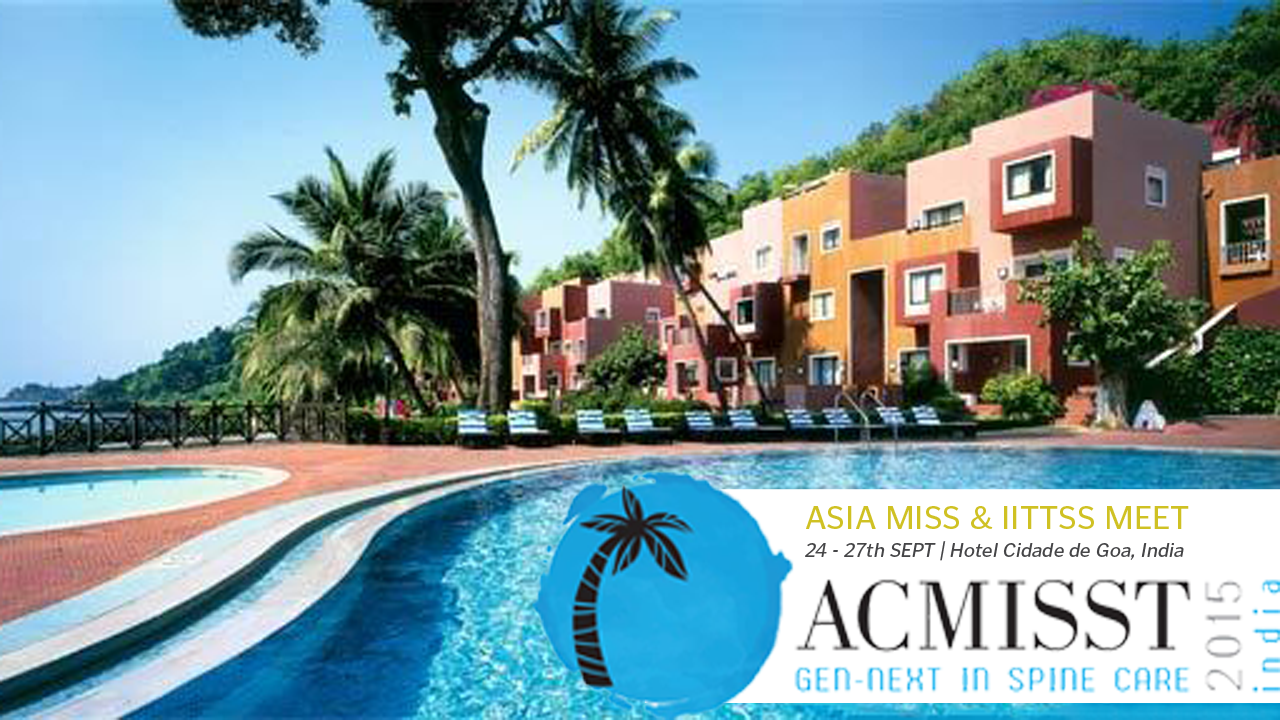 ASIA MISS and IITTSS held a combined meeting in Goa, India in September. It was the 4th meeting of ACMIIST and was also supported by the World Congress of Minimally Invasive Spine Surgery & Techniques (WCMISST).
The meeting was held at Cidade de Goa at Dona Paula, Goa, India and was attended by 102 delegates, 18 Indian and 6 international faculty including Drs. Anthony Yeung, Gun Choi, Hyeun Kim, Tolgay Satana, Tarik Yazar, and Sriphirom Pornpavit. This was one of the rare meetings where we had all major endoscopy and spinal implants companies present at same time.
Day One Review (24 Sept 2015)
On day one, introductory lectures were on moving away from images to pain and away from fusion. Dr. Gore and Yeung addressed the gathering. Dr. and Professor Jaiswal made delegates aware of the fusion possibilities and indications where it is an apt solution.
The meeting had a basic exposé on the philosophy of minimally invasive spine surgery and pain management. There was a very extensive symposium supported by Pfizer about managing nerve-mediated pain, along with medical and surgical alternatives. Lectures by eminent Indian faculty were followed by case scenarios which were thoroughly discussed as to the best alternatives under the chairmanship of Dr. Manoj Sharma.
The final part of the day was a very interesting interview of Dr. Yeung taken by Dr. Gore. Dr. Yeung was quite forthright in his answers and made delegates realize the hard work and devotion which has taken him and minimally invasive spine surgery (MISS) to heights where we have it today. It was also a journey down the memory lane for him and most appreciated his dedication and sincerity, as well as expertise and seniority.
Day Two Review (25 Sept 2015)
Day two was essentially devoted to cadaver dissection and learning access to foramen and other subtle details of the MISS philosophy. The afternoon was devoted to fusion and stabilization techniques. Delegates who chose to remain at the hotel had a chance to attend two interesting workshops, one on social media as an enabler for spine surgeons. This was conducted by Shri. Sachin Kelkar from SOCIAL KONNECT and was highly appreciated by one and all.
The noon workshop on methodology and techniques in treating osteoporosis medically and surgically was supported by Eli Lilly. The cadaver workshop was supported in its contents by the Pathirakha Foundation, a public charitable trust devoted to bringing new technologies to doctors.
The conference was inaugurated at the hands of VC of DY Patil Medical University, Dr Sanjay Oak, that evening. DY Patil University is a prominent university from the city of New Bombay. Dr Oak himself is a pediatric laparoscopist and talked at length on precision training and prudence in minimal access surgery. He also took questions from the audience which ranged from technology and philosophy as it is seen changing towards minimal invasion in surgery.
Day Three Review (26 Sept 2015)
Day three started very early at 7:30am with a lecture by Dr. Anand Agarwal, Professor of Bioengineering and Orthopedics from University of Toledo over video link about the future of spine endoscopy with special reference to endoscopic fusion philosophy and techniques.
It made the delegates aware of an exciting future when we will be able to stabilize and fuse an unstable or deformed spine under local anesthesia with minimum morbidity in a MISS way. Day three had long sessions mainly devoted to video presentations on techniques of pain management [medical and noninvasive] then transforaminal surgery and stabilization.
The video presentations were supplemented by live demonstrations beamed from the GOA Medical College OR. The live surgery was ably managed by Drs. Bandekar and Kavi. A total of 3 cases were done and showed namely facet and root blocks, transforaminal endoscopy and a hybrid surgical stabilization that combined transforaminal decompression with stabilization by percutaneous technique. The surgery was mainly able to emphasize the ease and technique of transforaminal access.
To highlight technology and its ramifications in medicine, we had a video conference with the Microsoft Singapore Office Head Mr. Gabe Rijpma. He talked at length about Microsoft's initiatives in healthcare. The delegates were benefitted by his depth of knowledge and clear cut demonstration of the emerging technologies for health care. Short 1 hour sessions on free papers presented by delegates brought in an array of new ideas in MISS spine. This included prospective studies about its utility, comparison with open access, applications in metastatic disease, and new ways of applying our validated principles.
To augment clinical information, we had an evening session on the business of spine surgery which was ably conducted by Ajay Pitre of Pitre Ventures, assisted by Amar Pradhan and Mohan Nair, who are stalwarts in their own right in their own fields of healthcare finance and marketing. This brought home the need to be more market savvy in addition to being an expert in surgery.
A late evening cultural program with a lazy dinner concluded the day. The delegates were able to participate in singing and dancing with high spirits and share their experience with all.
Day Four Review (27 Sept 2015)
The fourth day had two main short sessions on failed back surgery and the future in MISS. It highlighted "attention to detail" and how the method "can help us overcome known traditional failures". It also highlighted the importance of the "surgeon factor" which makes a difference and how we do have some pain management salvage routes to failures in surgery.
The program concluded with valedictory remarks by Dr. Gore who summed up the proceedings over the 4 days. He felt the meeting brought a "dose of reality" to both pain management and surgeon doctors.
The next IITTSS and World Congress Conference is now awaited and will be held in June, 2016 in Jeju Island, South Korea.
Dr. Satish Gore